The news out of Europe grows ever more horrifying.
This week a refrigerated truck filled with the bodies of 71 migrants who likely suffocated en route was found abandoned on an Austrian highway.
Yesterday two boats trying to make it to European shores capsized off the coast of Libya — at least 200 were believed missing and presumed dead.
Hey, that's Europe's problem, right? We here in fortress America have our own issues to deal with — and to hear Donald Trump tell it they would be largely settled by building higher fences and amending the Constitution to end birthright citizenship.
Just pull up the drawbridge and good luck to the "Old World" in dealing with the "wretched refuse" who end up — alive or dead — on their shores.
And yet here's one factoid from that most recent horror in Austria to contemplate: Some of the dead carried Syrian travel documents. They were fleeing the violence and the turmoil, which our own nation and the international community have done nothing to curtail — not after President Obama's "red line," not after the proof of sarin gas attacks, not after pleas by rebels for something more lethal than meals-ready-to-eat.
The dead in that truck included eight women and four children, the youngest a girl estimated between age 1 and 2, the boys ages 8 to 10. These weren't simply economic refugees, looking for a better life in Europe. These were families looking for any life that could be lived without fear of violence.
Imagine the level of desperation it takes to gather the family, make the trip to Turkey, then Greece, through Macedonia, Serbia through Hungary — where thousands have been crossing the border daily (often over or under razor wire fences) — and from there into other countries in the European Union.
Earlier in the week 18 Syrians were found in an overturned truck on a highway in Hungary. They, at least, survived.
European governments are arresting the human traffickers who prey off the fear and the misery of these refugees. But they cannot stop this tide. Only regime change in Syria can do that — but our own nation and the world seem to have given up on that.
It is horrific that people are drowning and suffocating to reach safety. These stories should be a reminder that migrants are not just statistics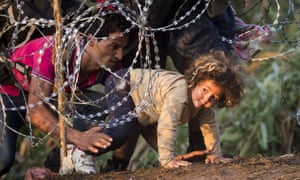 They're not people: nobody would tolerate hearing about the drowning of human beings over and over again. At best they are bleak but intangible statistics, the object of a bit of tutting before mundane everyday life takes over. For others, they are an unwanted and uninvited swarm that Fortress Europe must keep out: full of undeserving would-be leeches who have no place in the west. In the hierarchy of death, anyone labelled "migrant" must take their place somewhere near the bottom. It is a dehumanised word: for all too many people, it is somewhere down with "petty criminal", and who mourns petty criminals?
As the news of up to 200 dead refugees, drowned off the coast of Libya, filters fleetingly into news coverage, the only guarantee is that more will drown. And with news of more than 70 refugees found dead in a truck in Austria – to try to imagine their last living moments triggers a horrible feeling in the pit of the stomach – we know that more bodies will be found in more trucks. Those of us who want more sympathetic treatment of people fleeing desperate situations have failed to win over public opinion, and the cost of that is death.
For those who believe that hostility to human beings from other countries who lost the lottery of life is somehow hardwired into us, there is evidence to the contrary. Germany takes in around four times as many refugees as Britain does; and for every Syrian asylum seeker received by Britain, Germany gets 27. And despite German generosity comparing starkly with our own, half of Germans polled support letting in even more refugees.
This is a debate that cannot be won by statistics. We can tell people that those reaching Europe represent a tiny fraction of the world's refugee population; that while developing countries housed 70% of refugees a decade or so ago, that has now leapt to 86%. Far smaller and poorer countries take in far more than us, such as Lebanon, with its population of around 4.5 million including 1.3 million Syrian refugees. But it won't shift people's attitudes. We have to do it with stories, humanising otherwise faceless refugees.
Other than a tiny proportion of sociopaths, our species is naturally empathetic. It is only when we strip the humanity from people – when we stop imagining them as being quite human like us – that our empathetic nature is eroded. That allows us either to accept the misery of others, or even to inflict it on them. Rightwing newspapers hunt down extreme and unsympathetic stories of refugees, and we fight back with statistics. Instead, we need to show the reality of refugees: their names, their faces, their ambitions and their fears, their loves, what they fled.
Yes, the solution to global human misery is not to extricate a tiny lucky number and parachute them into richer countries. We need the west to take responsibility for disaster zones it helped create, like Libya and Iraq. We should pressure our governments to do more to solve situations that compel human beings to flee. At home, communities with higher levels of both migrants and refugees should be given extra resources and support. But as long as there is misery, people will flee it, and a tiny proportion will come this far. If we want to help them, we need to change public attitudes by humanising refugees. If we fail, then more and more women, men and children will spend their last few hours drowning in seas or suffocating in lorries. It is as bleak as that.
Antony Loewenstein
Posted: 24 Aug 2015 09:06 AM PDT
My piece in The National:
A woman in a black and white dress stood with a huge pot on her head. She had walked for days, with her two young children also carrying goods, to reach the camp for internally displaced persons in Bentiu, South Sudan. They were all exhausted by the time they registered with the International Organisation for Migration at the facility that then housed 100,000 men, women and children.

Six months before I visited in July, there were fewer than half that number. Today, there are more than 124,000. About 200 people arrive each day, fleeing a civil war that has engulfed the world's newest nation since 2013.

Tens of thousands are dead and many more have suffered sexual abuse and torture after an ethnic and power conflict between president Salva Kiir and his former deputy Riek Machar unleashed a brutal war.

The economy has collapsed. Millions are dependent on aid groups for food and water. Hundreds of thousands of children are on the verge of starvation. Only 10 per cent of boys and girls are in primary school and most of the teachers are untrained. Infrastructure, already in a parlous state during the 2011 independence celebrations, remains unfinished and broken.

It's the civilians in South Sudan who are paying the highest price for this man-made humanitarian disaster. When I visited Bentiu, I saw suffering on an enormous scale.

It's the rainy season, so rivers of mud flowed through makeshift huts and shops. Women who had left their husbands behind in remote villages to escape the marauding troops said they faced the risk of rape while searching for firewood.

The UN is overwhelmed by the surge of people seeking its protection.

A senior UN official in the capital Juba told me that he feared South Sudanese officials could kick out his organisation entirely, as happened in Eritrea, leaving millions of civilians homeless. "But I think the authorities still want international support," he said.

"There's no evidence yet, but if Al Shabaab or Boko Haram start operating here, the conflict will change and massive amounts of counter-terrorism money will start flowing to support the government."

August 17, the deadline set by African and US negotiators for a peace agreement to be reached between the warring parties, has been and gone with no settlement. On the day itself, Juba was eerily quiet. One woman told me that she feared for the safety of her young daughter, so they both stayed at home.

The streets of Juba are a dusty, jumbled mess. Barely any roads are paved and thousands of people live in tin-sheds along the main streets. The airport will be closed every weekend until April 2016, while construction work funded by the Chinese government is undertaken. This essentially cuts the country off from the outside world for two days every week.

Empty water bottles and other rubbish are strewn around the city. Clean drinking water is difficult to find – leading to the current cholera outbreak – and hope is in short supply.

Although I haven't met any locals who regret South Sudan's break from Sudan in 2011, they despair at the inability and unwillingness of their country's leadership to care for their people who they constantly praise as heroes of the liberation struggle. These are noble words with a bitter sting.

Canon Clement Janda, a former member of parliament and lead government negotiator in the peace talks, told me in the southern town of Yei that the international community had an "overemphasis on accountability over resolution". He continued: "I need a solution first and then we can set up an accountability mechanism" to address alleged war crimes.

This is not a view shared by global human rights groups.

Mr Janda argued, as many do across Africa, that the International Criminal Court is a flawed body that is "always after the vanquished, never the victors".

However, many civilians in Bentiu and elsewhere told me that their patience for delaying justice was over and they wanted military officers and leaders to be held to account now for abuses against them and their families.

The inability to rescue a failed state reveals the great limitations and interests of 21st century diplomacy. International media attention is rightly focused on the disasters in Syria, Iraq and Yemen, and yet this implicitly frames South Sudan as just another typical, African mess, featuring tribal violence without meaning.

Civilians in South Sudan know better. First the guns must fall silent, then health and education services must be built and sustained. Integrating South Sudan's economy into greater Africa – right now, the country barely exports anything and hardly attracts revenue from its copious oil reserves – will require patience and long-term commitment.

This may be impossible until a younger generation of leaders emerges.

Antony Loewenstein is an independent journalist in South Sudan and author of the forthcoming book, Disaster Capitalism: Making a Killing Out of Catastrophe
Call to action
18 August 2015
Three years ago today, citizen journalist and film-maker Osama al-Habali was arrested as he sought to cross the border from Lebanon into his native Syria. He has not been heard from since his disappearance.
TAKE ACTION:
Write to the Syrian authorities
Share his films on social media
Publicise his case in your country, particularly on 30 August, the International Day of the Victims of Enforced Disappearances
On 4 April 2012, citizen journalist and film-maker Osama al-Habali sustained life-threatening injuries to his neck and back as a result of shelling. After receiving treatment in Beirut and four months recuperation, he was arrested near the town of Talkalakh as he attempted to cross the border back into Syria on 18 August 2012.
Frustrated with the mainstream media's approach to coverage of the crisis in Syria, al-Habali sought to make films that would serve as an alternative (follow this link to hear about al-Habali's motivations in his own words). He began by filming protests in Homs, the heart of the Syrian revolution. His work was featured in several shorts for the award-winning Abounaddara Collective, an anonymous group of self-taught filmmakers producing weekly portraits of Syria during the civil war.
Three years after his arrest, al-Habali's fate remains shrouded in mystery. Despite the circulation of various rumours suggesting variously his transfer to a military intelligence facility in Damascus, his release, his death, the Syrian government have yet to confirm his status or whereabouts. His family have not heard from him.
Send appeals calling for:
Calling on the authorities to provide immediate information about his whereabouts and fate of Osama al-Habali; 
Appeals to:
Permanent Representative to the UN, H.E. Bashar Ja'afari
Permanent Mission Of The Syrian Arab Republic To The United Nations
820 Second Ave.
15th Floor
New York, NY 10017
United States of America
Phone: +1 (212) 661-1313
Fax: +1 (212) 983-4439
Share his films on social media:
Zeina – al-Habali's first film for the Abounaddara Collective
The Casseroles of the Revolution
Share films by the Abounaddara Collective on his disappearance
Save Citizen Osama (warning: graphic imagery)
The Truth About Osama
Rendez-vous with a shell
Detention
Background
At the beginning of the uprising which began in 2011, the Syrian authorities imposed a media blackout in an effort to hinder the reporting of impartial news from the ground. This blackout paved the way for the emergence of a citizen journalism movement, as an alternative media, with individuals reporting what is actually happening on a daily basis. This new media is being operated mainly by young men and women. Syrian citizen journalists have been particularly targeted for attack by the government's forces. Since March 2011, hundreds of citizen journalists have been killed either by snipers from the security forces or under torture. Hundreds of others who have done nothing more than to witness, report, film, and photograph acts of violence have been arrested and many have been subjected to enforced disappearance by government forces. Writers and journalists in Syria are also amongst those at risk of political and sectarian violence from pro-government militias and armed opposition groups.
Max Blumenthal, author of the 2015 book, "The 51 Day War". Gaza, and the Future of Israeli Politics, Town Hall Seattle, June 29, 2015
The mother of Mohammed Allan, a Palestinian prisoner who is on a long-term hunger strike, holds a portrait of her son during a rally calling for his release, Be'er Sheva, Aug. 9, 2015. AFP
Doctors who would forcibly insert a tube into someone's stomach should be boycotted and ostracized, in Israel and abroad.
Gideon Levy, Ha'aretz, 13 August 2015
And then he appeared like a beam of light in the darkness, the least likely person. In a place where there were no people, he was a person: Israel Medical Association chairman Dr. Leonid Eidelman. Looking like a Soviet bureaucrat, an anesthesiologist by specialty, he, of all people awakened the most anesthetized organ in Israel – the conscience – and proved that things can be different.
It is hard to remember when a labor leader last acted this way in Israel; when a person who is not a member of the ethics committee went beyond the realms of salaries and private medical services. When someone dared come out against the law. The Israel Medical Association turned briefly into Physicians for Human Rights – Israel, conscientious objection suddenly became a legitimate weapon. Without pathos and without beating around the bush, this courageous and moral physician, who once staged a hunger strike himself, announced that the IMA would not lend its hand to torture and its members would not force-feed hunger-strikers and would not enforce the law that the Knesset had passed. The law? Eidelman noted that in China, for example, doctors torture people according to the law. Bravo, Eidelman.
His statement made the darkness more prominent. Suddenly, it emerged how many collaborators the occupation has and how many agents of evil fulfill their functions without an Eidelman to stop them. How labor unions could have protested and should protest, how unions should have instructed their members to stop collaborating and refuse to do so.
It's not only the Shin Bet security service and the Israel Defense Forces, the settlers and their people; the entire society is involved. The engineers, the contractors, the architects and the builders on stolen lands, the bankers and those that trade in the money gained from exploitation. Those who quarry the natural resources in the occupied territories – endless areas of life in which people are involved in the occupation and act like they are innocent. And, of course, the lawyers: Just imagine Eidelman as head of the Israel Bar Association, instructing its members to stop cooperating with the grotesqueness called military courts. A dream. Almost the end of the occupation.
A few more Eidelmans, and reality will change. Eidelman proved that it's possible. The rest have proven how contaminated and inured they are. They have shown why opponents of the occupation abroad should boycott all segments of the society, not only the settlers.
The doctors are also contaminated. Hunger striker Khader Adnan told me this week in Nablus how the jailors who sat in his room at Assaf Harofeh Hospital and ate shawarma and pizza as his condition deteriorated, cuffed his hand and foot to his bed. There are doctors who permitted this, there are doctors who did not put an end to this lack of humanity in the hospital of which they have charge. They shirked their mission.
There are doctors in the Shin Bet who have trained and train torturers and there are doctors in the Israel Prison Service who are prepared right now to establish "emergency rooms" in the prisons for force-feeding. The horror show of moving Mohammed Allaan from one hospital to another, perhaps to "change atmosphere" or perhaps to force-feed him in a hospital whose director is a brigadier general in the reserves, did not raise enough protest. Doctors who would forcibly insert a tube into someone's stomach should be boycotted and ostracized, in Israel and abroad, them and their superiors. No research projects, no conferences, no in-service training, no membership in the IMA.
In recent months, two Palestinian hunger-strikers have grabbed international attention. Some cheered the freedom fighters, whose hunger strikes were intended purely to bring about their release from detention without trial. In Israel, their cases were brought up only with regard to the risk to the state's image were they to die. No one asked why they were striking. Perhaps their struggle was just? Perhaps they should be admired for their determination and their sacrifice?
All means were legitimized to prevent "image damage." We'll push a feeding tube into them and foster the image of the state. And then came Eidelman and destroyed this distorted moral
Andrei Tarkovsky (1932-1986) firmly positioned himself as the finest Soviet director of the post-War period. But his influence extended well beyond the Soviet Union.  The Cahiers du cinéma consistently ranked his films on their top ten annual lists. Ingmar Bergman went so far as to say, "Tarkovsky for me is the greatest [director], the one who invented a new language, true to the nature of film, as it captures life as a reflection, life as a dream." And Akira Kurosawa acknowledged his influence too, adding, "I love all of Tarkovsky's films. I love his personality and all his works. Every cut from his films is a marvelous image in itself."
Shot between 1962 and 1986, Tarkovsky's seven feature films often grapple with metaphysical and spiritual themes, using a distinctive cinematic style. Long takes, slow pacing and metaphorical imagery – they all figure into the archetypical Tarkovsky film. (Watch the scene from Stalker above.)
You can now watch Tarkovsky's films online – for free. Each film is listed in our collection, 700 Free Movies Online: Great Classics, Indies, Noir, Westerns, etc.. But here you can access the films in the order in which they were made. Most all of the films below were placed online by Mosfilm, the largest and oldest film studio in Russia.
NOTE: if you access the films via YouTube, be sure to click "CC" at the bottom of the videos to access the subtitles.
Three Student Films by Tarkovsky – Web

The Killers, 1956
There Will Be No Leave Today, 1958
The Steamroller and the Violin, 1960
Don't forget to follow us on Twitter, Facebook and now Google+, and add a pinch of culture to your daily social media diet.
Related Content:
The Masterful Polaroid Pictures Taken by Filmmaker Andrei Tarkovsky
Tarkovsky's Advice to Young Filmmakers: Sacrifice Yourself for Cinema
A Poet in Cinema: Andrei Tarkovsky Reveals the Director's Deep Thoughts on Filmmaking and
Those of us who concern ourselves with the Syrian revolutionary war will be more than familiar with the old line, almost solely repeated by leftists and ham anti-imperialists, that they simply just can't support the Syrian rebels because they're 'supported by imperialism' or, in its even more crude and directly antagonistic form, that they're 'proxies of imperialism' or stooges of forces that they've deemed to be be in the wrong 'camp', such as Saudi Arabia, Turkey and Qatar.  The logic of this is inherently irrational and/or downright perfidious.
Firstly, it's usually wielded not as any kind of genuinely analytical point, but rather merely as a means to deny support for and even just interest in the Syrian rebels and the revolution in general.  It's a position shaped by counter-revolution, eurocentrism and isolationism rather than any form of progressivism.  In different circumstances, this intercedes with sectarianism, different forms of chauvinisms and Islamophobia, which is apparently rendered acceptable within the remit of this kind of 'anti-imperialism' and the context of Syria.
Secondly, it is qualitatively and quantitively misleading and, in certain circumstances, meaningless as a description of the kind of support the rebel forces have received from countries deemed to be 'imperialist' over the course of the Syrian revolutionary war.  While it's completely true that certain rebel brigades have received weaponry from countries like the US, the actual function of the US has been an arbiter of what the rebels can and cannot receive from other countries, namely Saudi Arabia, Qatar and Libya.
For example, as has been well established, the US currently enforces an embargo on rebel forces receiving anti-aircraft MANPADS, weapons which could be used to overcome Assad's air force, which apart from being the main means used by the regime to terrorise civilian areas thus creating the massive refugee problem, has consistently given the regime the upper hand on the battlefield, but which could also in other circumstances, in the mind of the US, be turned against its regional allies, namely Israel.
But all of this obscures the fact that the vast majority of Syrian rebels have not been armed by 'imperialism' in any way, shape or form.  When Barack Obama began to fully concentrate US attention on the rise of Daesh, not in Syria, as it happens, where the US watched as they overran the poorly-equipped rebel positions, doing literally nothing when the rebels launched an offensive against them that wielded successes until the over-stretched rebels were caught out by the Assad regime when its forces, backed by Hezbollah and Iranian-funded ultra-sectarian Shiite militias like Badr and Asayib Ahl al-Haq took Yabroud, he rebutted the idea that the US hadn't supported the rebels enough by dismissing them as 'farmers and pharmacists'.
In a sense, the president was not wrong.  The rebels are mostly comprised of civilian volunteers who took up arms following the regime's militarised attempts to crush the civil uprising, while the core contains tens of thousands of defected Syrian Arab Army (SAA) soldiers.  The vast majority of the weaponry these forces use is that which the defectors managed to bring with them from the SAA and that which has been taken on the battlefield or as a result of raids on military bases.
I remember speaking to a friend who has fought with a Free Syrian Army brigade in and around the Damascus area.  We got onto the subject of how the revolution was perceived in the west among 'my friends', by which he meant fellow leftists.  I told him straightly that many of them were convinced that people like him were proxies of imperialism and were being armed by imperialist forces – inshallah, came the partially sarcastic reply.
And this brings me on to the next point.  What exactly would be the problem with Syrian rebels receiving weapons from 'imperialism'?  The only people who find it problematic are people for whom sourcing weaponry will never be a problem.  That might sound a cheap point to make, but it is nevertheless a cheap point worth making.  For many people, 'imperialism' is a word they so often use but rarely ever comprehend its meaning in practice in contexts beyond either hysterical, facile denunciations and sloganeering or often equally as facile academic detachment.
read full article here